STUDY AND RESEARCH
Research and knowledge
Barcelona Biomedical Research Park

Research area specialising in life sciences, human health and biomedicine.

Cibernàrium

One of the programmes by Barcelona Activa for training and the promotion of technology for professionals and businesses.

National Centre for Genomic Analysis (CNAG)

It develops genome analysis projects, in collaboration with the international research community.

Alba Synchrotron

Centre of excellence in synchrotron light for scientific and industrial applications in Europe. It carries out R+D projects based on synchrotron light.

Barcelona Supercomputing Center (BSC)

It is Spain's national supercomputing centre. Specialising in high performance computing (HPC), the Barcelona Supercomputing Centre manages the MareNostrum: one of Europe's most powerful supercomputers.

Barcelona University Centre (BCU)

It offers information and advice to the foreign university and scientific community on how to stay, study, live and conduct research in Barcelona.
Barcelona, a research capital
Barcelona is a leading city in the study of clinical and human health, home to research centres with established working groups in the life sciences and excelling in areas such as oncology, bio-nanomedicine and cardiovascular diseases.
Barcelona is...
Biosciences

Barcelona, with 90 research centres and over 400 established research groups, stands out in clinical research and human health.

Postgraduate studies

In Barcelona and Catalonia there are over 100,000 students of all nationalities and from all continents studying at the various levels of university and graduate education.

Health

The Barcelona area has an extended network of university hospitals, including the Hospital Clínic, Hospital de Bellvitge, Hospital de la Vall d'Hebron, Hospital de la Santa Creu i Sant Pau, Hospital de Sant Joan de Déu, Hospital del Mar and Hospital Germans Trias i Pujol. All of them carry out a remarkable research activity.

Higher education

With 500 years of university history behind it, Barcelona is committed to offering quality and tradition in its university studies.

Biotechnology

Barcelona is committed to biotechnology, which plays a key role in the pharmaceutical sector today.

Business schools

With over thirty, first-class, international and business schools, Barcelona is an important destination for education and training.

Pharmacy

The Spanish pharmaceutical sector is mainly concentrated in Catalonia, where almost half of Spain's pharmaceutical laboratories are located.

Universities

Barcelona has one of the largest university communities, with 196,604 students and 12,344 lecturers at 7 universities offering 317 degree courses.
Knowledge city
Barcelona, with more than 500 years of university history, attracts students from all over the world. The city offers first-class undergraduate and postgraduate programmes. It also has renowned business schools that attract talent, whose aims are to stimulate the creation of quality jobs with added value and foster entrepreneurship.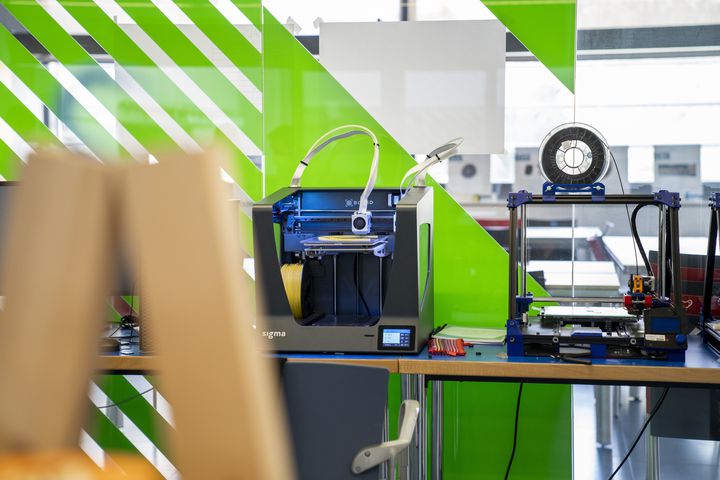 A commitment to health and science
The Barcelona area has an extensive network of university hospitals that includes the Hospital Clínic, Hospital de Bellvitge, Hospital de la Vall d'Hebron, Hospital de la Santa Creu i Sant Pau, Hospital de Sant Joan de Déu, Hospital del Mar and Hospital Germans Trias i Pujol, enabling it to offer the public a quality, specialised medical and care service.
Moreover, Catalonia is home to 22% of the biotechnology companies in Spain and 45% of the pharmaceutical companies, led by the biggest in the sector, all of which are Catalan: Almirall, Esteve, Ferrer, Grífols, Lacer and Uriach. Catalonia is also the base for 40% of the medical technology companies in Spain, which account for 50% of total turnover in the sector.
According to the BioRegion of Catalonia 2020 Report - Challenges, the life sciences and health sector employs 230,000 people and represents 7.3% of Catalonia's GDP. The success of the sector is based on a model of research excellence, education, entrepreneurship and innovation.
In addition to that, Barcelona and its surrounding area has three of Europe's benchmark infrastructures: the Mare Nostrum supercomputer (Barcelona Supercomputing Center, BSC), the National Centre for Genomic Analysis (CNAG) and the Alba-Cells synchrotron. All three are pioneering projects promoting the city on an international scale.
UAB Research Park (PRUAB)

A science park with eight independent institutes and centres conducting research in five broad areas. Find out more!

Barcelona Centre for Regenerative Medicine (CMRB)

The CMRB carries out research on human embryo stem cells to treat degenerative diseases.

Centre for Genomic Regulation (CRG)

The CRG conducts biomedical research, especially in genomics and proteomics, with researchers from all over the world.

Bioengineering Institute of Catalonia (IBEC)

Specialises in bioengineering research and its medical applications.

Catalan Institute of Cardiovascular Services (ICCC)

The ICCC carries out cardiovascular and heart disease research with a high level of international competition.

Biomedical Research Institute (IRB)

The IRB is a very dynamic centre of excellence devoted to basic and applied biomedical research. Some of its biggest successes have been achieved in cancer research.

AIDS Research Institute (IrsiCaixa)

The institute's goal is to help improve knowledge, prevention and treatment of HIV infection and AIDS in order to eradicate the epidemic.

Barcelona Public Health Agency (ASPB)

A public body set up to manage the public health and environmental services in Barcelona.