meet.barcelona
Visit and love it
El Born and La Ribera
Download date: 15/09/2022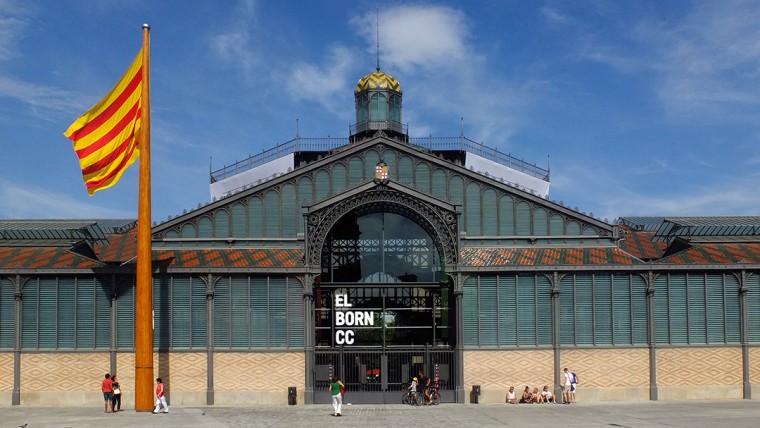 The medieval neighbourhoods of El Born and La Ribera are now the centre of new urban trends, a place for enjoying an avant-garde lifestyle while feeling the echoes of the past.
Urban spaces
Back to the Middle Ages
Walking aimlessly through the streets and squares of El Born and La Ribera transports you back to the Middle Ages, when this area was one of the city's main districts, full of palaces and mansions built by the wealthy merchants. With imposing Gothic precincts like La Llotja, the exchange where they conducted the business that kept them going, but also numerous humble artisans, guilds and sailors who, in only 55 years, and without the help of the powerful classes, were able to build the Santa Maria del Mar church, the best example of Catalan Gothic architecture.
In 1714, the medieval district suffered the defeat in the War of Succession, and was severely damaged. In remembrance of those who fell in this war, a flame is kept burning in Fossar de les Moreres, next to Santa Maria del Mar. If you want to learn about the history of that time you should go to the Born Cultural Centre, a Modernista market converted into a museum which houses the remains of the city that disappeared under the bombs.
A neighbourhood of artists, past and present
La Ribera was, and still is, a neighbourhood of contrasts. Today, the palaces in Carrer Montcada, old mansions, are occupied by museums and art galleries, the most notable being the Museu Picasso, which holds the early work of this painting genius. Picasso had his workshop in the neighbourhood, as did the painters Rusiñol and Casas. In fact, there were so many artists who set up in La Ribera and El Born that these neighbourhoods were considered to be Barcelona's Montmartre. The legacy of this can still be seen today, as many new creators have moved into iconic spaces, where new trends are found side-by-side with medieval remains and the memory of traders and merchants. It has become one of the most modern and cosmopolitan neighbourhoods in Barcelona, with the hippest fashion showrooms found alongside gourmet shops and the latest trends in restaurant culture.
Translator of

:
Location and contact
Location and contact
El Born and La Ribera
Address:

Pg Born, 30
Districte:

Ciutat Vella
Neighborhood:

Sant Pere, Santa Caterina i la Ribera
City:

Barcelona
Discover other related points of interest