meet.barcelona
Visit and love it
Telefèric de Montjuïc
Download date: 09/11/2023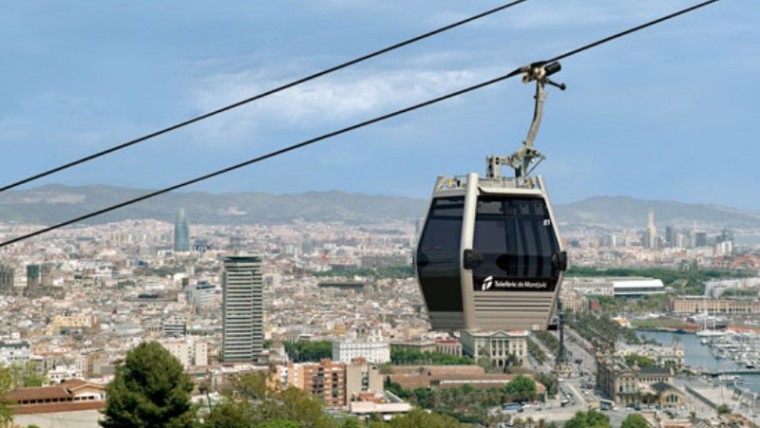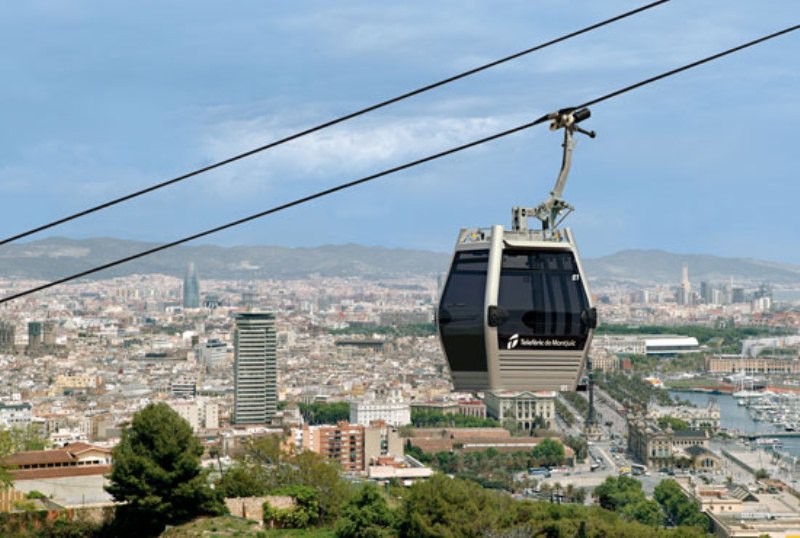 Reaching the summit of Montjuïc can be a very different experience if you use the Montjuïc cable car, with cabins that fly over the mountain, offering panoramic views.
Unusual transport

Accessibility

Accessible for people with physical disabilities
More than just a form of transport
Renovated in 2007, the Montjuïc cable car is much more than a means of transport because, thanks to the privileged views it offers, it has become one of the mountain's big attractions. It is very easy to access, as it stops at three different points along its route. The first stop, Parc de Montjuïc, is situated on Avinguda Miramar, very close to the funicular railway station that climbs up the mountainside from Paral·lel. From this point you can access some of the most important cultural attractions in the park, such as the Joan Miró Foundation, Poble Espanyol and the Museu Nacional d'Art de Catalunya (MNAC).
Bird's eye view
Making the journey by cable car gives visitors the opportunity to stop at each station to enjoy everything on offer there. The second stop, Mirador, enables visitors to reach the famous Mirador de l'Alcalde vantage point, a landscaped terrace with exceptional views over the Port of Barcelona. Close by is the emblematic Monument a la Sardana, and the entrance to the Jardins de Joan Brossa. These woodland gardens are a great place to venture into with a childlike spirit, as they are home to musical cushions, zip lines and climbing games.
The third and final stop is Castell de Montjuïc, where you can visit this 17th century military fortress and carry on enjoying the spectacular views over a large part of the city from the mountain top.
From the modern cable car cabins, which hold up to 8 people, you can observe the city in motion without losing sight of important buildings such as the Sagrada Família or the Agbar Tower. The experience of gradually zooming out from the city as the cable car climbs the mountain, and the opportunity it provides to get a bird's eye view of Barcelona is a unique experience that is well worth trying.
Translator of

:
Location and contact
Location and contact
Telefèric de Montjuïc
Address:

Av Miramar, 20*30
Districte:

Sants-Montjuïc
Neighborhood:

el Poble-sec
City:

Barcelona
Phone number

932987000 (de TMB)
902075027 (de TMB)

Links
Timetable and prices
Timetable
Period
Dies
Hores
Preus
De l'1 novembre al 28 febrer
Cada dia
de 10.00 h a 18.00 h

Entrada general de: 9.4 a 14.2 €

Entrada d'adult:

9,40 € anada
14,20 € anada i tornada




Entrada infantil (de 4 a 12 anys)

7,50 € anada
10,20 € anada i tornada




Menors 4 anys: gratuït




El bitllet d'anada només es pot adquirir a les taquilles del Telefèric

De l'1 març al 31 maig
de 10.00 h a 19.00 h
De l'1 juny al 30 setembre
de 10.00 h a 21.00 h
De l'1 octubre al 31 octubre
de 10.00 h a 19.00 h
Observacions
Uneix el parc de Montjuïc (av Miramar, entre el Viver de Tres Pins i camí del Castell al costat de l'estació superior del funicular de Montjuïc) amb el Mirador (Mirador de l'Alcalde, al costat de l'antic parc d'atraccions) i el Castell de Montjuïc.
Discover other related points of interest