meet.barcelona
Visit and love it
Sant Andreu
Download date: 11/08/2022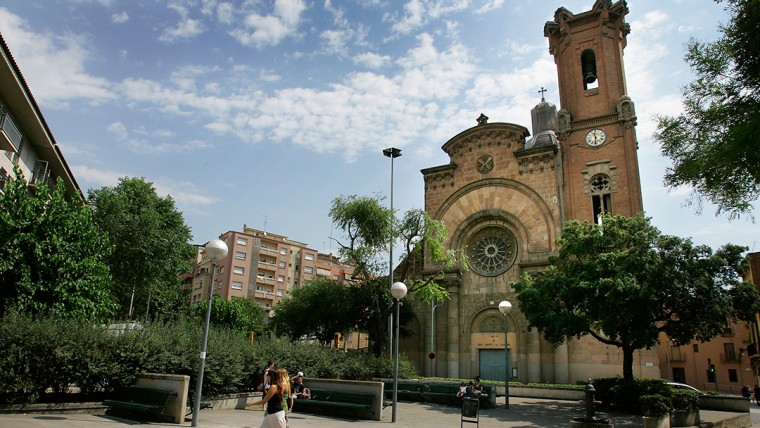 Urban spaces
Much more than a neighbourhood
If you had to describe Sant Andreu's character in two words, they would be tradition and struggle. And in the middle, the residents. Sant Andreu has residents, but the century-old associations, local shops, an active social life, and people greeting each other on the streets are what make it a real neighbourhood. It still has traces of the village it used to be and which is still very much alive in Plaça Orfila and the historical centre, full of intimate little side streets and century-old shops, like those you can find on Carrer Gran de Sant Andreu.
But Sant Andreu conceals a lot more treasures. Some, even though you cannot see them, are documented and date back to Roman times. Like the remains of the aqueduct that served the Rec Comtal, the large canal that used to carry water across Barcelona. Others, which you can see, such as the Can Carasses masia or farmhouse, today the Escola Ignasi Iglésias school, speak of Sant Andreu's agricultural past when it was tasked with supplying Barcelona, in the 17th century.
And yet more, treasures that describe the great industrial past of the 18th century, like the Fabra i Coats spinning mill that has now been reclaimed, after a long struggle by local residents, providing 30,000 square metres for public use including the Fabra i Coats-Creation, the Centre Cultural Can Fabra, the local library Biblioteca Ignasi Iglésias, the neighbourhood centre Casal de Barri de Sant Andreu, the Espai social i cultural Josep Bota and Plaça de Can Fabra. Modernisme also left its mark in Sant Andreu, with properties such as Can Guardiola, today providing office space for non-profit associations, and Can Vidal, as did rationalism, with a gem of contemporary architecture, Casa Bloc, commissioned by Catalonia's republican government in 1932 and who invited architects from all round the world to study the structure.
Festivals and traditions
Sant Andreu is a neighbourhood that has held on to its traditions and turned its festivals into unmissable events for everyone. It is the first Barcelona neighbourhood to hold the annual Tres Tombs festival, with its blessing of pets and domestic animals. For this a procession sets off from Plaça Orfila with ox-drawn carts and horse-drawn carriages, whose occupants throw tonnes of sweets to the watching public.
And from sweets to blunderbusses, trabucs in Catalan, because there is another kind of procession, a cercavila, that fills Sant Andreu's residents with pride. And that is the Esclat Andreuenc, where a group of trabucaireswake up the neighbourhood by firing off salvoes with their guns. Sant Andreu is the past, but it is also the present and the future that the associations and proud local residents are committed to maintaining.
Translator of

:
Location and contact
Location and contact
Sant Andreu
Address:

Pl Comerç, 3
Districte:

Sant Andreu
Neighborhood:

Sant Andreu
City:

Barcelona
Discover other related points of interest