meet.barcelona
Visit and love it
Sant Pau Modernista complex
Download date: 11/08/2022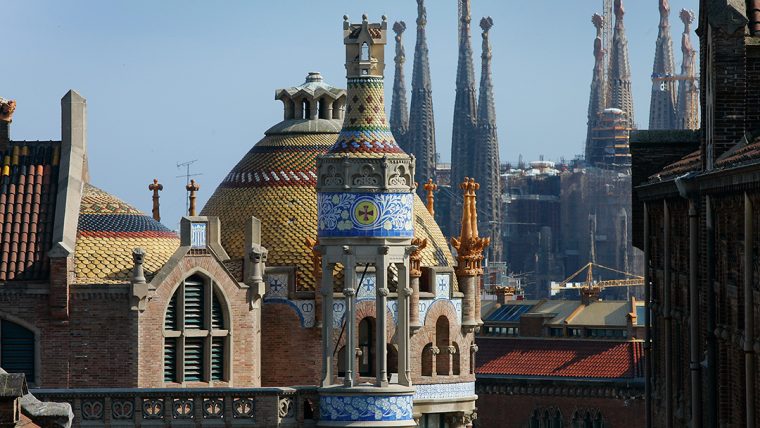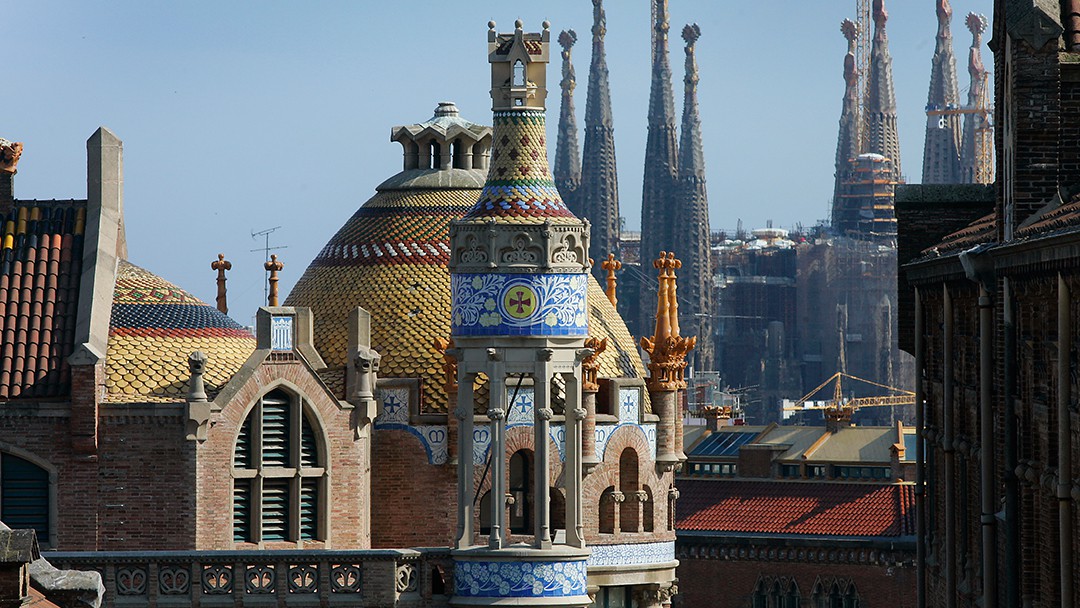 Hospital de Sant Pau, one of the most important health centres in Barcelona, immensely important for Catalan Modernisme.
Cultural heritage
Modernista hospital
The successor to the 1401 hospital in the Raval neighbourhood, Hospital de la Santa Creu i Sant Pau was created at the end of the 19th century by the architect Lluís Domènech i Montaner. Both as a health facility and for its architectural value, it is one of the most extraordinary Modernista sites in Barcelona.
Considered to be the largest Modernista complex of Catalan architecture, it was declared a UNESCO World Heritage site in 1997. The 12 Gothic Revival-inspired buildings are covered in ceramics and a wide variety of prized iconography revealing the creator's religious sentiments. The general criteria followed in the construction of these 12 buildings were common structures, lighting, ventilation and room decoration.
Heritage waiting to be discovered
In 2009, after the Modernista complex had been used as a health centre for more than eight decades, an ambitious project moved the hospital to new facilities at the northern edge of the site, and the historic pavilions were converted into a research and historical culture centre.
A place of memories, the Modernista complex currently houses a research and knowledge centre comprising institutes linked to health, education and health-related activities. In addition, the administration pavilion contains the Historical Archives of the Hospital de la Santa Creu i Sant Pau, one of the oldest documentary resources in Europe, with documents from the 15th century, when the hospital was in the Raval neighbourhood, right up to the 20th century. As a base for cultural and educational events, Hospital de Sant Pau is a unique place to visit that that takes you through decades of Barcelona's science, history and architecture.
Translator of

:
Location and contact
Location and contact
Sant Pau Modernista complex
Address:

Carrer de Sant Antoni Maria Claret, 167
Districte:

Horta-Guinardó
Neighborhood:

el Guinardó
City:

Barcelona
Phone number

935537801 (Tel.)

Links

Email: recintemodernista@santpau.cat
Email: visites@fundaciosantpau.cat
Timetable and prices
Timetable
Dies
Hores
Preus
Tots el dies excepte 25 desembre
de 10.00 h a 18.30 h

Entrada general de: 16 a 20 €




Visita lliure: 16 €

Visita guiada: 20 €

Audioguia: 4 €




Entrada reduïda

- Visita lliure: 11.2 €

- Visita guiada: 14 €




. Residents a Barcelona

. Majors 65 anys

. Targeta Rosa reduïda

. Joves de 12 a 29 anys

. Discapacitats grau inferior a 65%

. Titulars del carnet de família nombrosa o monoparental




Entrada gratuïta (cal obtenir entrada a taquilla):

- Menors 12 anys (acompanyats d'un adult)

- Persones aturades i en ERTO

- Targeta Rosa gratuïta

- Persones discapacitades amb grau superior o igual al 65%

- Programa Amic veí

- 23 d'abril (Sant Jordi)

- 24 de setembre (la Mercè)




Descomptes 20%:

BCN Card, Bus Turístic, City Tours, Carnet de Biblioteques, Club TR3SC, socis d'Òmnium Cultural




Descomptes 50%:

Ruta del Modernisme, Carnet Jove, membres Col·legi Oficial de Metges de Barcelona i Col·legi Oficial d'Infermeres i Infermers de Barcelona. 




Grups (màxim 20):

- General: 250 €

- Reduïda: 180 €

La Nit dels Museus 2022:

14 de maig

de 19.00 h a 01.00 h

Entrada Gratuïta

Cal reserva prèvia
Discover other related points of interest