meet.barcelona
Visit and love it
Museu de Ciències Naturals de Barcelona
Download date: 18/05/2023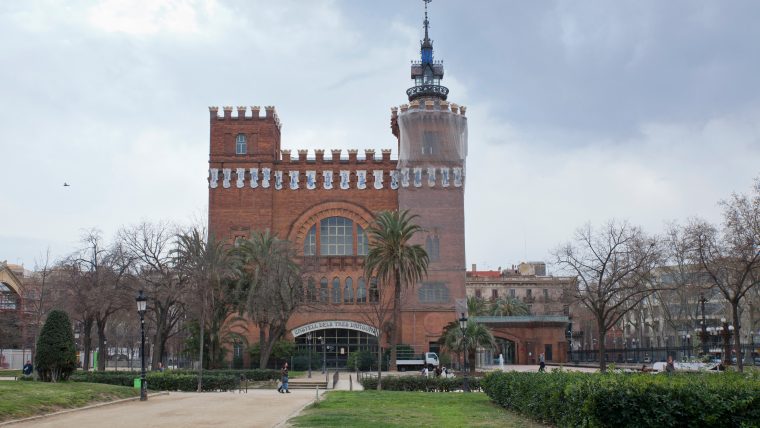 The emblematic Domènech i Montaner café restaurant is a building held in very high regard by the people of Barcelona. A typically Modernista building, its outer shape resembles that of a fairy-tale castle.
Cultural heritage
A castle in the city
Located on the edge of Parc de la Ciutadella, the Castle of the Three Dragons had to function as an architectural feature and as a café-restaurant during the months of the Universal Exhibition of 1888. However, some problems that arose during the execution of the work led Lluís Domènech i Montaner to abandon the project, and it was finished by another architect shortly before the Exhibition ended.
Notwithstanding the relatively modest success of its beginnings, the Castle of the Three Dragons, which took its name from a play by Serafí Pitarra, soon became a symbol of Modernista Barcelona.
A scientific and Modernista soul
The Castle of the Three Dragons brings together some of the most characteristic features of Catalan Modernisme: brick construction employing majestic and fanciful shapes (in this case, a castle with a square floor plan and four towers), the use of wrought iron and ceramics for the decor, etc.
The building has had many uses since it was built: a few years after the end of the Universal Exhibition, it reopened as a Museum of History, and in 1920 it was re-furbished to house the Museum of Zoology. It is currently one of the four main centres of the Museo de Ciencias Naturales and is dedicated to the research, conservation and dissemination of the museum's collections as well as the publication of specialised works. A large part of its data are accessible online through the Global Biodiversity Information Facility portal.
Translator of

:
Location and contact
Location and contact
Museu de Ciències Naturals de Barcelona
Address:

Pg Picasso, 5
Districte:

Ciutat Vella
Neighborhood:

Sant Pere, Santa Caterina i la Ribera
City:

Barcelona
Phone number

93 256 22 00 (Tel.)
Observacions
La visita al centre està tancada al públic en general, excepte l'accés a la consulta científica de les col·leccions.
Discover other related points of interest